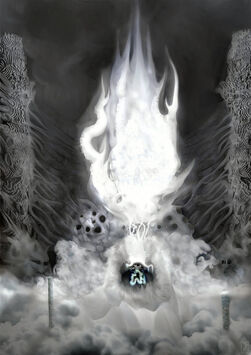 Aphoom-Zah, the Cold Flame, is the progeny of Cthugha and is worshipped as the Lord of the Pole because he dwells, like Ithaqua, above the Arctic Circle. Aphoom-Zhah frequently visited Hyperborea during the last ice age. His legend is chronicled in the Pnakotic Manuscripts.
Aphoom-Zhah appears as a vast, cold, grey flame that freezes whatever it touches. The being came to Earth from the star Fomalhaut, briefly visiting the planet Yaksh (Neptune) before taking up residence in Mount Yarak, a legendary mountain atop the North Pole. When the Elder Gods tried to imprison him beneath the pole, Aphoom-Zhah erupted with such fury that he froze the lands around him. Aphoom-Zhah is believed to be responsible for the glaciation that eventually overwhelmed Hyperborea, Zobna, and Lomar.
Aphoom-Zhah likely spawned Gnoph-keh, Rhan-Tegoth, and Voorm. Though no human cult worships this being, Aphoom-Zhah is revered by the Gnophkeh, the Voormis, and his own race of minions; the spectral Ylidheem.