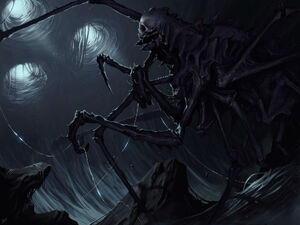 Atlach-Nacha resembles a huge spider with an almost-human face. It dwells in a huge cavern deep beneath Mount Voormithadreth, a mountain in the now vanished kingdom of Hyperborea in the Arctic. There it spins a gigantic web, bridging a massive chasm between the Dreamlands and the waking world.
Some believe that when the web is complete, the end of the world will come, because it will create a permanent junction with the Dreamlands allowing monsters to move freely into the waking world.

Atlach-Nacha probably came to Earth from the planet Cykranosh (or Saturn as we know it today) with Tsathoggua. Because of its appearance, Atlach-Nacha is often referred to as the Spider-Goddess and is believed to be the regent of all spiders. Furthermore, the giant, bloated purple spiders of Leng are thought to be its children and servitors.